BEHRINGER UMX250
- Solo EURO 99,00 !! -
TASTIERA MIDI USB 25 TASTI

Il controller MIDI UMX 250 è una master-keyboard estremamente flessibile con una sezione di controllo per una vasta gamma di applicazioni.
Hai bisogno del controllo di sintetizzatori hardware e moduli sonori MIDI?
Di controllare i dispositivi per gli effetti?
Vuoi solo far funzionare i sequencer software o i plug-in da una posizione remota strategica?
I controller della serie UMX offrono la massima flessibilità e facilità d'uso che consente di realizzare le tue idee in modo intuitivo.
Caratteristiche principali
Tastiera 25 tasti sensibile alla velocity USB/MIDI
Interfaccia Audio USB per registrazione e riproduzione di qualsiasi file di musica digitale
Software di registrazione, editing e podcasting più 150 strumenti/plug-in e driver a bassa latenza scaricabili gratuitamente
Plug and play con Mac OS X, Windows XP e Vista
8 Controlli rotativi in tempo reale, più 10 switch assegnabili
Control change MIDI liberamente assegnabili
Funzione dOcteve-Shift con LED di stato multifunzione
Out MIDI separato per controllare campionatori esterni, synth e altri strumenti
Funziona via USB, batterie o alimentatore (non incluso)

BEHRINGER BCD-3000

- CONTROLLER USB PER DJ - € 99,00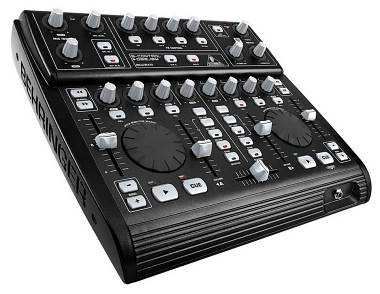 Il B-Control Deejay Mixer (INTERFACCIA AUDIO E MIDI-CONTROLLER) permette di riprodurre, mixare e scratchare qualsiasi MP3, WAV o altro formato audio con una sensazione reale di vinile. Dotato di mixer, dual-player, effetti, mic/phono preamp ed una vera e propria sezione monitor, questa interfaccia audio 4 canali USB è dotata di convertitori a 24-bit e latenza di funzionamento ultra-bassa anche con Windows XP e Mac OS X
Caratteristiche principali
Per riprodurre, mixare e scratchare file MP3, AAC, WMA, OGG, WAV e AIFF
Interfaccia audio 4 canali USB con convertitori 24-bit
DJ setup completo: Doppio player, mixer, effetti, 2 preamp phono più una vera sezione monitor
2 versatili Jog Wheels
EQ 3-bande, pulsanti loop, fader pitch e level per canale più un crossfader ultra-regolare
2 Preamplificatori phono interni per mixare dischi in vinile con file MP3
Preamplificatore microfonico interno con livello dedicato e controlli EQ
Controlli dedicati per play, cue, loop, pitch bend, search, effects e molto altro
Native Instruments Traktor 3 LE (incluso nella confezione)
Dimensioni: H100 x 330 x 300mm
Peso: 3kg

USB 7003 - Mixer per DJ
- Euro 169,00 !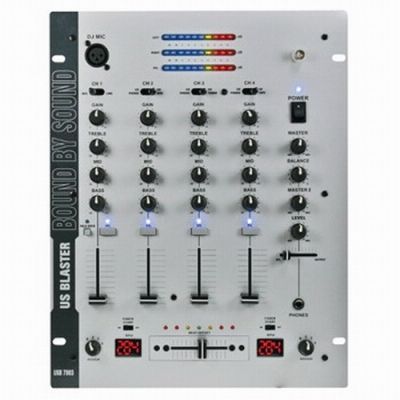 USB 7003 DJ Mixer 4 channel with easyglide faders - 10inch rack mounting
The USB 7003 professional mixers incorporate 'Easy Glide' crossfaders, which guarentee a problem-free use over a very long time.
With its user-friendly technical design, this mixer is the DJ's first choice!
INPUTS
DJ Mic. mono 1.5mV ⁄ 600 Ohm
Phono. stereo 3mV ⁄ 50 kOhm
Line. stereo 150mV ⁄ 100 kOhm
OUTPUTS
Master. stereo 1V ⁄ 600 Ohm
Record. stereo 350mV ⁄ 600 Ohm
Monitor (boot). stereo1v ⁄ 600mV
GENERAL
Frequecy Range 20-20KHz
THD 0.1 %
S⁄N Ratio
Line 70 dB
Phono 50 dB
Mic 50 dB
TONE CONTROLS
Bass +12 dB. -26dB
Middle +12 dB. -26dB
Treble +12 dB. -26dB
Talkover -12 dB
Headphones Output 8 Ohm
Power Supply 230 v ⁄ 50Hz
Dimensions (W X H X D)240 x 355 x 100 mm
Weight 3.5 Kg
USB 7337 - DOPPIO LETTORE CD + Mixer integrato per DJ
- Euro 379,00 !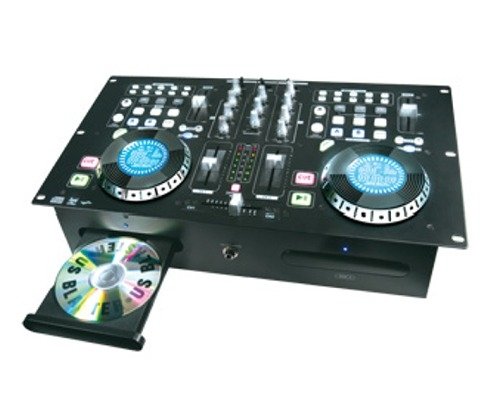 Start mixing with our new US Blaster DJ set. The built-in mixer make this set "Ready to use".
Technical spec.:
* 2x20 Sec Anti-shock with RAM buffer
* Pitch control with range of +⁄- 16%
* Integrated blue LCD display
* 14cm Jog Wheel makes searching easier
* Jog Dial
* Seamless loop
* Rotary tone controls (high⁄mid⁄low⁄gain)
* Stereo recording ⁄ monitor speakers output by XLR en 6.3 mm jackplug
* 6.3 mm jackplug headphone connector
* Audio CD and CD-R compatible
* Anti-Shock using RAM Buffer Memory
* Instant-Start and Cue with preview for each channel
* Single ⁄ Continuous play modes
* Robo-Start
* Fader-Start
* Pitch bend via Jog wheel or buttons
* Three time display modes
* Frame accurate search
* 10 Direct track access buttons
* +10 track button for quick navigation
* Fully programmable with repeat function
* 3-band EQ with Gain Control
* Assignable ⁄ removable crossfader
* Crossfader control CD Play and Pause
* LED output meters

USB 7380 CUFFIA - Euro 49,00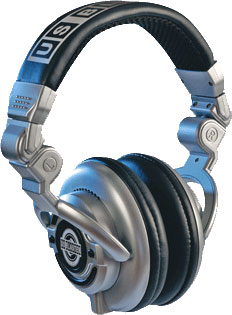 Cuffia professionale con padiglioni ruotabili di 180 gradi, driver da 50 mm con magnete al neodimio, sensibilità 105 dB,
potenza massima

2 x 500mW

, impedenza 32 Ohm e risposta in frequenza

10-22000 Hz

.